Quit Smoking Today!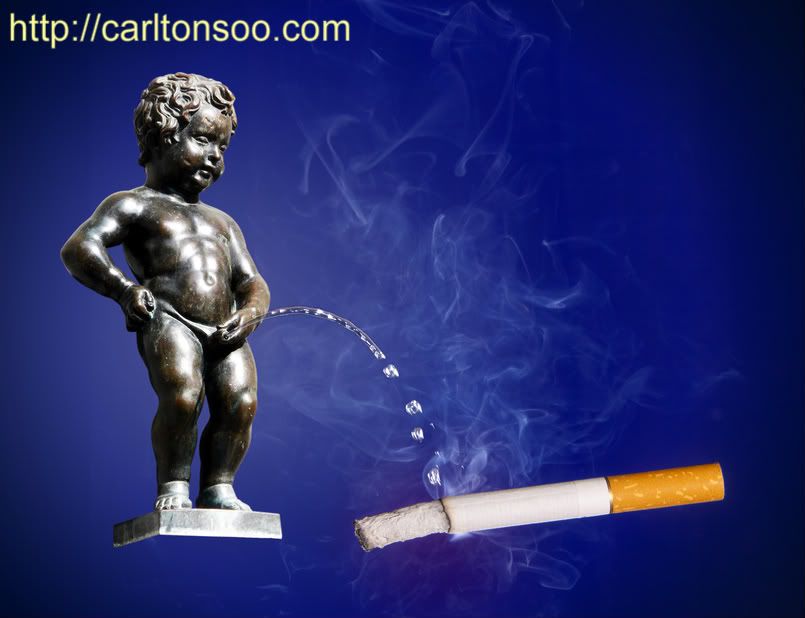 There are a lot of good things that will happen when you quit smoking. Remember the positive reasons you are quitting, and use the suggestions you are about to read to assist you in your efforts. Keep these guidelines and use them to aid you in becoming a proud non-smoker.
Just as a quick background, I started smoking at the age of 14 (so that's about 15 years of smoking to date)! Like many teenagers around that age, it's very common to be a rebel and try out all sorts of things. In recent years I had a smoking habit of more than 10 cigarettes a day and spent about $40 per week on that nasty habit! But since 2009 I've been a non smoker and even though it's just been 2-3 years, I'm happy to have made that choice! No wonder drugs, no magic pill, just some common sense and the DECISION to quit! If I can, ANYONE can! Lets move on
When you commit to quitting smoking, plan out appropriate rewards for every milestone you achieve. For example, when you haven't smoked for a week, go out to the movies. Maybe after a month, you could go to a nice restaurant you have been wanting to go to. As you meet future milestones, you may wish to either increase your rewards or simply phase them out.
 Why you no
Quit Smoking Today?
Changing your outlook to be more positive will help you to quit for good. If you can take it day by day, you'll find it's far easier to handle. When you go through 3-4 hours of not having a cigarette, stop for a moment, close your eyes and imagine your lungs THANKING you and cleaning itself! Consciously think of how much benefit you're doing to your body and mind, AND to your family members who are counting on you to quit! I've found this a GREAT way to sever emotional ties with tobacco products. I just think of how happy my mum is when I tell her I've quit smoking! The smile on her face is just priceless! You can think of a loved one doing the same thing. Try it! It's a GREAT feeling!
Ask for support online through groups or forums. There are hundreds of useful websites that are dedicated to furthering your goals of smoking cessation. You may find outside support beneficial to your efforts. Other ex-smokers understand your challenges and the emotional problems that sometimes get in the way of quitting smoking.
Counselling can help you in your mission to quit smoking. There may be an emotional reason which makes you want to smoke. If you can successfully deal with those issues, you may lose the urge to light up or be better able to control it. If this is something you think you'd like to try, ask your doctor who you should speak to.
Smoking cessation is one of the few times when it is best to procrastinate; delay tactics are often an effective strategy. If you do something else and then re-evaluate your feelings after a few minutes, you'll find that the worst of the cravings are gone. If you still feel the urge, repeat the process! Tell yourself you'll wait five to ten minutes before smoking.
If you feel your cravings are becoming too much, call a loved one for support. Let a family member or friend know that you are struggling. The time you spend chatting can distract you until the craving passes, and you will feel good knowing that you do not have to experience your struggle alone.
Once you stop smoking, help your body to recover faster by deliberately eating lots of fresh fruit and drink AS MUCH WATER as POSSIBLE!! The natural vitamins in fresh fruits and raw vegetables help restore your body and lungs to healthy working capacity and an EXTRA 6-8 glasses of water DAILY will flush out your system from the nicotine and thousands of other chemicals much faster!
You will notice that your appetite increases after you quit smoking, so drink lots of water to suppress the appetite and all that extra fresh fruit will prevent you from putting on extra weight! Smoking negatively affects virtually every part of your body. Maximize your healing efforts.
Kicking the habit of smoking is a tremendous challenge to take on. You will experience cravings, and it might feel easy to just give in. Keeping a journal of your cravings can help. Write down how strong the craving was, how you felt, what exactly you were doing. This can help make you aware of what it is that is making you want to light up a cigarette.
Instead of smoking, exercise. Exercise causes your body to release mood-boosting endorphins, and physical activity provides distraction from your cravings when they do strike. Also, working out helps prevent weight gain that could happen when you quit smoking. Don't try to beat an Olympic record straight away! Take a brisk walk while listening to some upbeat music is a great start, and it's NO excuse not to because it's NOT HARD to WALK. You'll be amazed at how FRESH the natural air is!
You already know the benefits of being a non-smoker. Simply knowing all the health and social-related benefits of quitting, however, may not be sufficient. You'll need a variety of tools under your belt, so use the above suggestions to boost your mood and fight cravings whenever necessary. It won't be long before you are enjoying all the benefits that come along with being a non-smoker.
So are you ready to
QUIT SMOKING
today? Don't wait! Stop making excuses!! If not now, then WHEN?? Make the right choice! I did, and it's one of the best decisions ever!